• 12 Days of Christmas • charades • Christmas • Christmas games • cookies • drawing • drawing games • food • fun with food • holiday traditions • holidays and parties • singing games • song games • virtual parties • Zoom games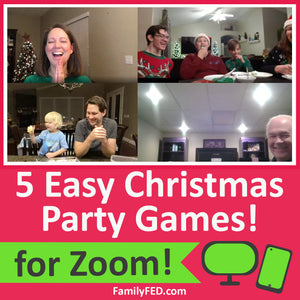 For the best easy
Zoom
Christmas
party games for a virtual Christmas party for family, friends, work or school, try these five ideas! (You can also use Google Meet for a great virtual Christmas party.) Some provide adaptations to carry on your favorite Christmas traditions from far distances while others enjoy some humor from common problems on Zoom.
---
• 12 Days of Christmas • bingo • candy canes • Christmas • Christmas games • Christmas gifts • doughnut • holiday traditions • holidays and parties • Nativity activities • neighbor gifts • ornaments • reindeer • sing-alongs
This new idea for the 12 days of Christmas will help your family celebrate your holiday with laughter. Or, gather the supplies and give them to a lucky family for their 12 days of Christmas!