• 5-minute games • ball games • boredom busters • bouncy balls • car games • cotton balls • dice • dice games • DIY Dollar Tree • DIY game • dollar store • Dollar Tree • Dollar Tree DIY • Dollar Tree hack • dry-erase • easy games • family game night • family night • family reunion games • family reunion ideas • game hacks • party games • road trip • road trip activities • road trip games • road trips • sticky notes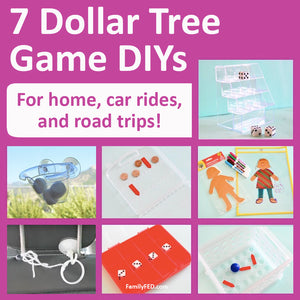 Family game night, road trip ideas, and party games don't have to break the bank—we're bringing you seven easy and fun games you can play with Dollar Tree supplies for around two dollars each. From Plinko ideas to dice games to dry-erase paper dolls, and more, these easy games are great for not only kids but also several games are great for teens—easy to be leveled up or simplified for all ages, including adults!
---
• ball games • obstacle course • optimism • outdoor • outdoor activities • outdoor games • playground balls • sports cones • summer parties • summer play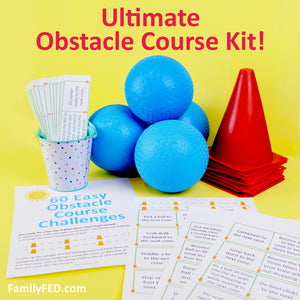 Create the ultimate summer obstacle course with ease! All you 
need are 4 rubber balls, 8 sports cones, and our list of 60 obstacle course challenges!
---
• ball games • boredom busters • bouncy balls • level-up challenges • Ping-Pong balls • screen free • screen-free play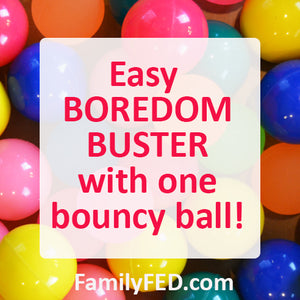 This type of boredom buster is my favorite because you can find ways to "level up" the challenge in creative ways. And all you need is a bouncy ball!
Place a bouncy ball in the palm of your right hand. Toss it into the air and bounce it off the palm of your left hand. Bounce it back toward the right hand but have it bounce on the back side of the hand, then bounce it off the back of the left hand—all in one continuous bouncing motion. See how many times in a row you can bounce it back and forth between the palms and backs of your hands.
---
• ball games • basketball • bouncy balls • easy games • Minute to Win It games • party games • Ping-Pong balls • problem-solving
This unique twist on basketball is sure to bring fun! Use embroidery hoops, diving rings, or even paper plates with the center cut out for the "basket" and set it flat on the table. Then grab one ball per person and have everyone try to pick up the ball between their elbows and shoot to get it to stay inside the hoop!