• bingo • Christmas • Christmas games • holiday traditions • holidays and parties • sing-alongs • singing games • song games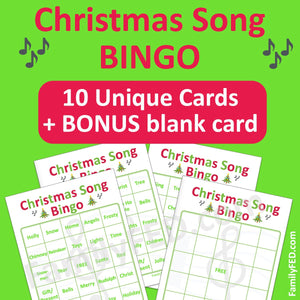 Christmas carols are often playing in the background at your family Christmas party, work party, or school party, but this game brings them front and center!
Pull up a Christmas station on your favorite music app, sing along, and listen for lyrics that match the items on your Bingo board!
---
• 12 Days of Christmas • bingo • candy canes • Christmas • Christmas games • Christmas gifts • doughnut • holiday traditions • holidays and parties • Nativity activities • neighbor gifts • ornaments • reindeer • sing-alongs
This new idea for the 12 days of Christmas will help your family celebrate your holiday with laughter. Or, gather the supplies and give them to a lucky family for their 12 days of Christmas!
---
• bingo • downloadable game • downloadable games • downloads • nature • outdoor • outdoor activities • outdoor games • screen free • screen-free play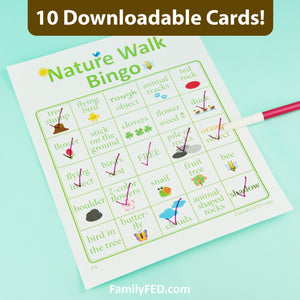 These 10 colorful and downloadable Nature Walk Bingo cards will turn a routine walk into a fun adventure with our downloadable Nature Walk Bingo game! 
Whether we're hurriedly moving to our next destination or scrolling on our phones while talking with someone in the room, it's easy to be present somewhere without truly experiencing the moment or the location. This Nature Walk Bingo game provides a fun reason to pause and truly appreciate the stunning world around us. And it's a great reason to get outside! It helps you connect with nature and with the people you're with! It's also a great game to involve children across a wide range of ages.