• 5-minute games • brain exercise • creativity • educational games • educational play • Game Pantry play • level-up challenges • screen-free play • The Ultimate Letter Card Game Deck • word games
Words help us form phrases each day. But this game with letter card game decks features a role reversal that's all about finding how the
phrase
can form
words!
This game provides a great brain exercise to help the mind connect letters in new ways, and it's a fun spelling game for increasing vocabulary as well.
---
• brain exercise • build • creativity • educational games • educational play • engineering • fun with food • hot chocolate • marshmallows • Melting Marshmallows challenge • STEAM • STEM • toothpicks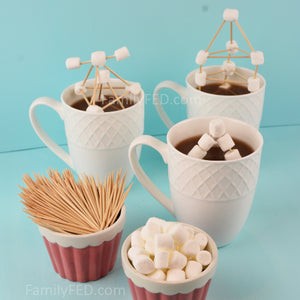 This easy STEM project introduces your children to engineering in a fun way! Build a marshmallow structure and see whose idea can stay afloat longest before having the last marshmallow touch the hot chocolate! It's a great way to melt away the homework blues in a way that combines a classic treat with educational fun!