• boys camp ideas • camping games • Fourth of July • girls' camp • recipes • s'mores • summer activities • Young Women camp
S'mores are a summer staple, so for National S'mores Day I thought it would be fun to add a slight twist to this favorite treat—making a s'mores-inspired ice cream treat in a bag. And with only four ingredients, it's a breeze to make
---
• campfire games • camping games • family campout ideas • food • Fourth of July • fun with food • girls camp ideas • marshmallows • recipes • s'mores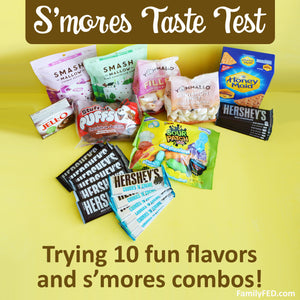 S'mores nights are a favorite for my family. Grandma always finds the best marshmallow flavors (thanks, Mom!), so we decided to do an official s'mores taste test to see which marshmallow flavors are best and even try some fun combinations, including putting them on cookies and crackers. We even had some extra chocolate pudding from dinner, so we decided to see if it would work on s'mores! Find out what worked and what fell a little short.
---
• boys camp ideas • campfire games • camping games • family campout ideas • family reunion games • family reunion ideas • flashlight games • girls camp ideas • hiking games • hiking ideas • kendama games • marshmallows • nature • outdoor • outdoor activities • outdoor games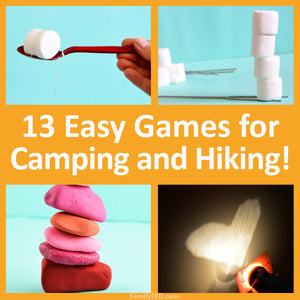 Whether you're going into the mountains to camp or hike, you'll love these 13 easy camp games with some great ideas for hiking, too. Use them for family campouts, girls' camps, boys' camps, hiking trips, and family reunions! Some are even great ideas for backyard campouts, too!
---
• 3x5 index cards • bedtime ideas • campfire games • camping games • flashlight games • nature • story time fun • storytelling games
Whether it's bedtime fun with stories at home or you're enjoying nature and want some easy camp ideas for kids, learn how to create DIY flashlight puppets and shapes in just a few easy steps! Create flashlight shapes in your favorite objects, or create related shapes and use them to tell a story on the wall or side of the tent.
---
• bears • campfire games • camping games • creativity • downloadable game • downloadable games • easy games • family conversations • family game night • nature • printables • storytelling games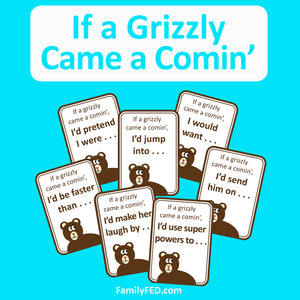 This easy and hilarious finish-the-sentence game is perfect for parties, family nights, road trips, and campouts to get the creativity and laughter flowing. Simply take turns having one person read a card and letting the other players come up with creative ways to finish the sentence to safely escape if a grizzly came a comin'!