• downloadable game • downloadable games • downloads • easy games • educational games • educational play • family game night • Game Pantry play • homeschool ideas • memory • printables • screen-free play • spelling games • strategy games • The Ultimate Letter Card Game Deck • word games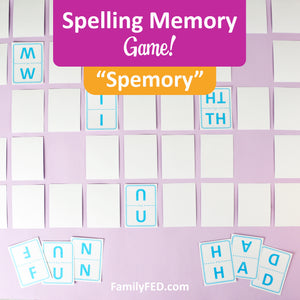 I love a good game that's not only fun but that also engages my brain as well; this game does that for all ages! For teens and adults, it's a fun word game that also allows strategy to come into play—and it's a great memory booster! For younger children, it's a creative take for daily spelling practice (read to the end for a variation that allows you to use weekly spelling words)!
---
• back to school • downloadable game • downloadable games • downloads • pencils • printables • school games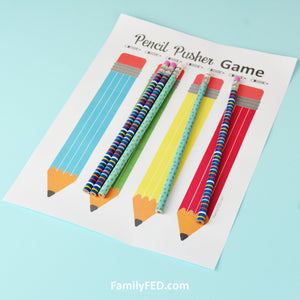 Before you sharpen your number 2 pencils, sharpen your skills at rolling two pencils into your target before an opponent pushes you out!
---
• downloadable game • downloadable games • downloads • license plate games • printables • road trip activities • road trips • screen-free play • summer games • summer play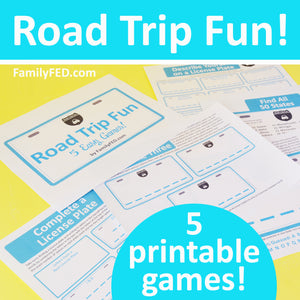 With more road trips happening than ever before, it's important to have activities to entertain everyone on the road—and to help create tech-free time for teenagers. With all the other prep you're doing to get ready for the road trip, keep the entertainment prep easy by printing our set of five fun printable road trip games geared for ages 9 and older! And to keep the road trip vibe strong, they're all themed around license plates! You'll love the fun they provide.
---
• downloads • family history • family history in 15 minutes • free downloads • journaling • journaling prompts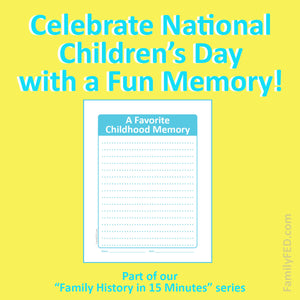 As part of our ongoing "Family History in 15 Minutes" series of weekly journaling prompts, today we celebrate National Children's Day by recording a childhood memory. Don't worry about recording the most memorable or the most important—just record
any
memory that comes to mind. Any memory recorded helps preserve part of your story, part of your childhood. And you can help your children record their memories while they're fresh in their mind, because the things that matter most to them now might not be what comes to their mind years from now.
---
• countdown • downloads • Father's Day • holidays and parties
Give a meaningful gift to the dad or grandpa in your life who has everything with this two-week Father's Day countdown-chain printable. You'll find versions for Dad and Grandpa in four different colors. All 14 days have a fun prompt to have you and your children share something you love about Dad or Grandpa. Then he can take one chain off each day and feel all the love this Father's Day.