• birthday ideas • escape rooms • holidays and parties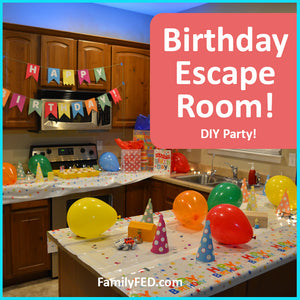 This DIY Birthday Party Escape Room is great for older children, teens, and adults! This activity serves as the party theme and activity all in one! And you can use it to help reveal where the birthday cake or party favors are hidden! Get our printables and instructions that make it easy to put together!
---
• escape rooms • holiday traditions • holidays and parties • New Year's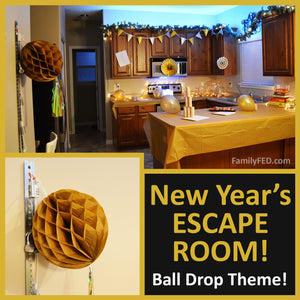 Enjoy the New Year's Eve ball drop celebration with a DIY escape room at home! This New Year's Eve DIY escape room centers around unlocking six puzzles that allow the New Year's Eve ball to drop to the ground! The six puzzles center around iconic New Year's items like the ball drop, resolutions, calendars, poppers, and countdowns. 
---
• Christmas • Christmas games • Christmas gifts • escape rooms • Grinch • holiday traditions • holidays and parties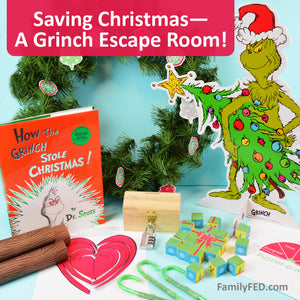 The story of the Grinch who stole Christmas is a wonderful reminder about what really makes the Christmas season magical—not the presents and stockings but the spirit of Christmas that is in our hearts. And in a year when our traditional Christmas experience may not be the same as most years, this DIY Christmas escape room based on How the Grinch Stole Christmas helps us focus on how to celebrate the true meaning of Christmas. 
This Christmas party escape room invites participants to solve six clue-based puzzles that will help the Grinch's heart to "grow three sizes [this] day."
---
• escape rooms • holidays and parties • Thanksgiving • Thanksgiving ideas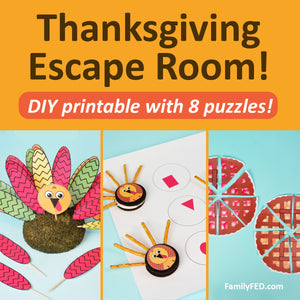 While your family is waiting for the Thanksgiving turkey to cook, make the day extra memorable using our at-home DIY Thanksgiving escape room with a fun twist
: nobody can eat the feast until everyone solves the puzzles to get back the silverware from the mischievous turkeys! Our printable PDF contains eight puzzles that participants must solve for this "Mischievous Turkeys" escape room.
---
• escape rooms • Halloween • Halloween games • Halloween ideas • holidays and parties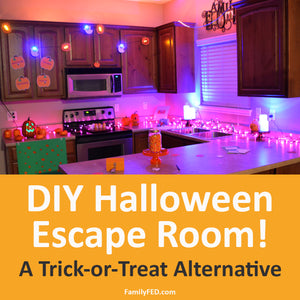 Whether you're looking for a trick-or-treat alternative, a teen Halloween party idea, or a great Halloween adventure for adults, our "Goblin Tricks and Treats" Halloween Escape Room will be an evening nobody will forget! I've made it super easy to know how to create this Halloween escape room with our printable clues, step-by-step instructions, and even a video tutorial to walk you through the process.