• barbecue activities • BBQ • BBQ games • easy games • flipping games • food • food fight • Fourth of July • Fourth of July games • fun with food • hamburger • holidays and parties • screen free • screen-free play • spatula • summer parties • summer play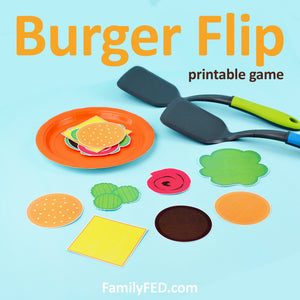 Burger Flip is the perfect easy family game for barbecues, summer parties, and holidays. Families, children, and teens will all enjoy this printable game that has you flipping your burger to perfection. Simply print out the PDF, cut out your burger pieces, and grab a spatula, then you're ready to play!
---
• Disney • food • food fight • fun with food • peer pressure • Star Wars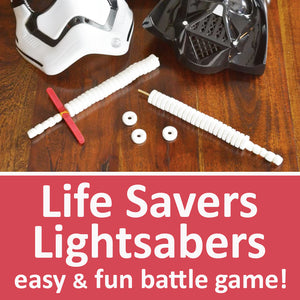 To celebrate Star Ways Day (May the 4th be with you!), I'm sharing one of my favorite games we've ever put together: Life Savers Lightsabers. To play, create Life Savers candy lightsabers. Then pair up and battle it out to see who can remove all of the other person's Life Savers from the lightsaber first! To quote my nephew, "This game is win or win not; there is no tie."
---
• cake • cake dot game • dessert game • dot game • dot game with cake • easy games • food • food fight • fun with food • twists on classic games
Here's a fun twist on the classic dot game: create it with CAKE and FROSTING instead of with pen and paper!