• easy family activity idea • games with a twist • games with no supplies • no-prep games • outdoor • outdoor activities • outdoor games • playground games • simple games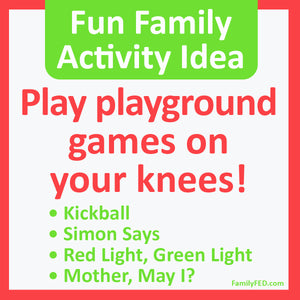 Get ready to laugh with this one simple twist on playground games: play on your knees. Try it with games like:
---
• acting • cultural understanding and celebration • easy family activity idea • easy games • family movie night • games with no supplies • instant laughter • movie parties • no-prep games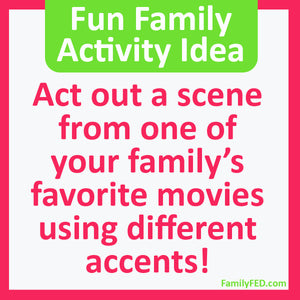 For instant laughter, try re-creating a scene from a favorite family movie using various accents. You can all use the same accent (and do it multiple times rotating which accent you use) or have everyone use a different accent during the same scene. And you don't have to be good at accents—in fact, that even adds to the laugh factor!
This can also be easily done in the car to keep everyone laughing on a long car ride!
---
• charades • easy games • family history • family history in 15 minutes • family stories • games with no supplies • memories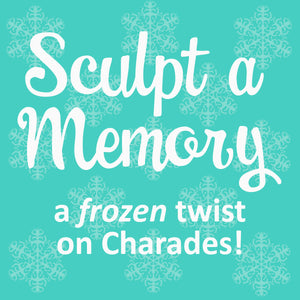 In this game, our family literally laughed nonstop the entire activity! But first, a little background: While watching Frozen 2, I loved how "frozen memories" in water played an important part in helping Elsa and Anna create solutions for the future. Many studies have shown that children who know their family's stories are better able to cope with emotions and challenges. This game strengthens a culture of family storytelling—one where you have to sculpt a memory into a single pose (or two or three) to relive your family's favorite moments! Not only is it fun (aka, nonstop laughter!), but it's also a great way to capture your family's story through favorite memories.