• goals • growth • Minute to Win It games • talk with children about • talk with teens about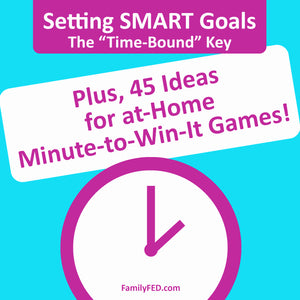 For me, nothing helps me achieve a goal faster than a deadline. Knowing when I need to accomplish something by helps me stay extra focused to make it happen. That's why the "T" for "time-based" in SMART goals is so important. To help teach this principle for accomplishing growth through goal setting, try giving your family a fun Minute-to-Win-It–style challenge, such as
---
• card games • family conversations • free downloads • goals • growth • printables • trivia games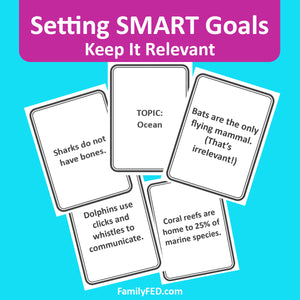 If you're wondering how to talk with your children about setting goals, then making goals relevant is an important aspect to discuss. 
Today's activity centers on family conversations about specific topics.  It's a game I created called, "That's Irrelevant!"
---
• boredom busters • coins • easy family activity idea • easy games • goals • printables • target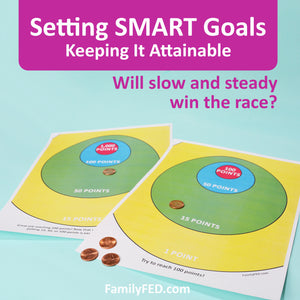 Setting an effective goal means finding the right balance in pushing yourself to grow. Set your goal too high and you might get discouraged. Make it too easy and you may not end up progressing as much as you can. It's great to have big dreams; we just need to divide them into small and simple steps along the path. That's what the "A" in the "SMART" goals pattern is about: creating ATTAINABLE goals. This game is designed to teach that pattern. To play, each person tries to reach 100 points by sliding a penny onto a target with various point values....
---
• cards • goals • talk with children about • talk with teens about
See how building towers can help your family achieve their goals!
---
• card games • goals • growth • party games • word games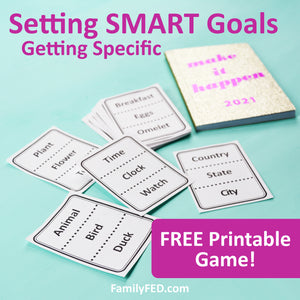 Learn how to create specific SMART goals with your family in a fun game for kids and teens!