• goals • growth • Minute to Win It games • talk with children about • talk with teens about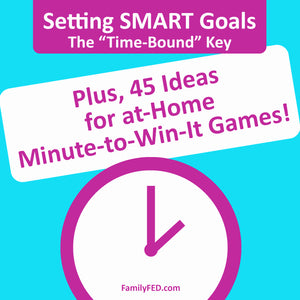 For me, nothing helps me achieve a goal faster than a deadline. Knowing when I need to accomplish something by helps me stay extra focused to make it happen. That's why the "T" for "time-based" in SMART goals is so important. To help teach this principle for accomplishing growth through goal setting, try giving your family a fun Minute-to-Win-It–style challenge, such as
---
• card games • family conversations • free downloads • goals • growth • printables • trivia games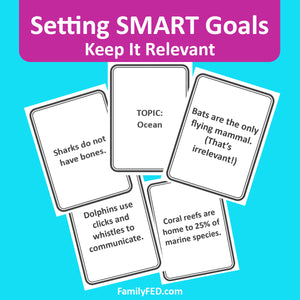 If you're wondering how to talk with your children about setting goals, then making goals relevant is an important aspect to discuss. 
Today's activity centers on family conversations about specific topics.  It's a game I created called, "That's Irrelevant!"
---
• card games • goals • growth • party games • word games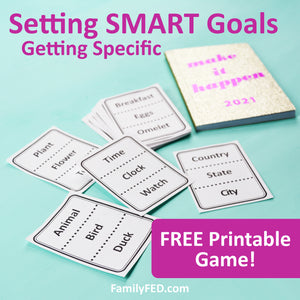 Learn how to create specific SMART goals with your family in a fun game for kids and teens!
---
• animals • balance • growth • nature • outdoor • outdoor activities • screen free • screen-free play • talk with children about • talk with teens about
Feeding ducks is such a great pleasure for a fun and simple family activity! But did you know that eating white bread isn't necessarily good for ducks? See how knowing the foods that are nutritious for feeding ducks can also help you talk with your children and teens about finding balance in their lives!
---
• boredom busters • chopsticks • focus • free downloads • Game Pantry play • growth • outdoor activities • party games • screen-free play • target • toilet paper rolls
If you have chopsticks and empty toilet paper rolls, then you're on your way to 60 minutes of family fun with just 1–2 minutes of setup for these fling flyers combined with a fun target practice! Enjoy TP fling flyers indoor or outdoors for lots of family fun! Games like this are accessible—and fun!—for all ages, from toddler to adults.