• 5-minute games • boredom busters • bouncy balls • easy games • family game night • family games • Game Pantry play • level-up challenges • party games • toilet paper rolls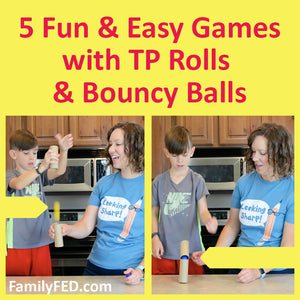 One of the best things about two-supply game challenges is that they can start as just FIVE MINUTES of family time (easy entry-level commitment for family members who don't feel they have enough time/desire for family games) but they almost always keep everyone engaged and playing together for MUCH longer! And it doesn't take much prep. Just grab some empty toilet paper rolls (or most of these activities would work with brand-new toilet paper rolls as well!) and a bouncy ball or two and try one of these five boredom busters!
---
• boredom busters • car games • coins • DIY Dollar Tree • dollar store • Dollar Tree • Dollar Tree DIY • Dollar Tree hack • level-up challenges • organization supplies • road trip • road trip activities • road trip games • road trips • sticky notes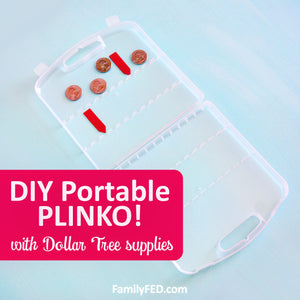 Easily create a portable Plinko-inspired game with Dollar Tree DIY supplies. Simply gather a marker organizer and pointed sticky notes from the Dollar Tree and find a few quarters.
---
• boredom busters • bouncy balls • cake stands • easy games • level-up challenges • target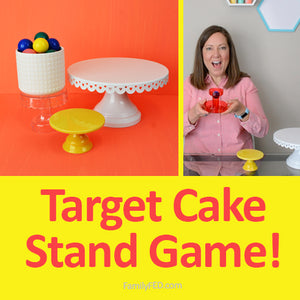 If you love the Target Dollar Spot and Bullseye's Playground as much as I do, then I imagine you have a Target cake stand or two (or more) at home! So I decided to incorporate them into a DIY game—the "Upside-down Cake Bounce!" It's super easy with some bouncy balls and allows for level-up challenges as well. See our three versions for three styles of cake stands.
---
• ball games • boredom busters • bouncy balls • level-up challenges • Ping-Pong balls • screen free • screen-free play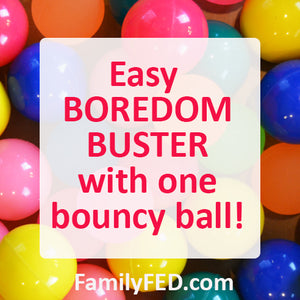 This type of boredom buster is my favorite because you can find ways to "level up" the challenge in creative ways. And all you need is a bouncy ball!
Place a bouncy ball in the palm of your right hand. Toss it into the air and bounce it off the palm of your left hand. Bounce it back toward the right hand but have it bounce on the back side of the hand, then bounce it off the back of the left hand—all in one continuous bouncing motion. See how many times in a row you can bounce it back and forth between the palms and backs of your hands.
---
• 5-minute games • brain exercise • creativity • educational games • educational play • Game Pantry play • level-up challenges • screen-free play • The Ultimate Letter Card Game Deck • word games
Words help us form phrases each day. But this game with letter card game decks features a role reversal that's all about finding how the
phrase
can form
words!
This game provides a great brain exercise to help the mind connect letters in new ways, and it's a fun spelling game for increasing vocabulary as well.