• boredom busters • chopsticks • focus • free downloads • Game Pantry play • growth • outdoor activities • party games • screen-free play • target • toilet paper rolls
If you have chopsticks and empty toilet paper rolls, then you're on your way to 60 minutes of family fun with just 1–2 minutes of setup for these fling flyers combined with a fun target practice! Enjoy TP fling flyers indoor or outdoors for lots of family fun! Games like this are accessible—and fun!—for all ages, from toddler to adults. 
---
• ball games • basketball • bouncy balls • easy games • Minute to Win It games • party games • Ping-Pong balls • problem-solving
This unique twist on basketball is sure to bring fun! Use embroidery hoops, diving rings, or even paper plates with the center cut out for the "basket" and set it flat on the table. Then grab one ball per person and have everyone try to pick up the ball between their elbows and shoot to get it to stay inside the hoop!
---
• agency • dice • dice games • easy games • opportunity • party games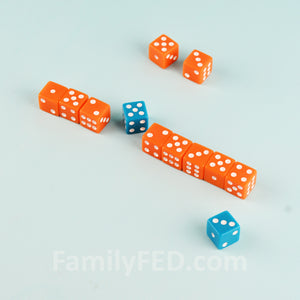 Line up your dice, slide one die through them, and see if you can sneak between the rest of the row! This game also provides a chance to talk about creating opportunities in your life!
---
• educational games • educational play • party games • solo games • spelling games • The Ultimate Letter Card Game Deck • word games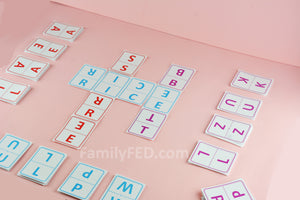 Speed meets spelling in this lightning-fast word association game using letter cards. How fast can you find word connections to move your letters from your stacks into the center?
---
• art games • arts and crafts • drawing games • easy games • free downloads • goals • graph paper • growth • party games • quick games • Strive to Be • talk with children about • talk with teens about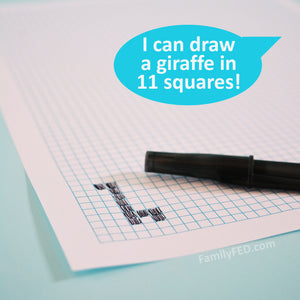 This name-that-tune style art game uses graph paper to see who can draw an object using the least amount of squares. It also provides a great parallel to setting and achieving goals, and it can help you talk about growth and goal-setting with your family!