• creative writing • creativity • easy family activity idea • poetry • writing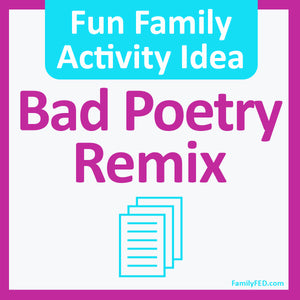 Tomorrow is National Bad Poetry Day, and this creativity exercise will get everyone's imagination going! Here's how to play.
---
• Coronavirus • haiku • journaling • journaling prompts • poetry • skill building
As adults, we can help the rising generation expand their horizons, try new experiences, gain skills, and discover talents they may not have otherwise known they would be interested in. For this week's growth skill, it seemed fitting to explore poetry on National Haiku Day!
Not only does this activity focus on poetry, which seems almost like a lost art these days compared to a few decades ago, but it's also a great way to get children and teens (and yourself!) talking about things that matter to them and how they feel.