• holiday traditions • holidays and parties • leprechaun • printables • St. Patrick's Day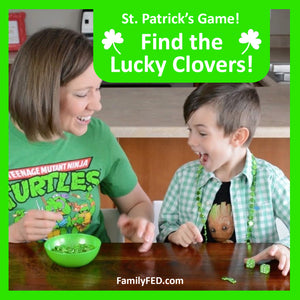 For this fun and easy St. Patrick's Day game, gather some small clovers—these can be stickers, punched paper, or these plastic clovers that I cut from Dollar Tree necklaces. Place a large number of clovers into a bowl and write the number "4" on a few of them to symbolize a lucky "four-leaf" clover. The goal will be to find as many four-leaf clovers as you can. You'll take turns finding them by rolling dice. One person rolls two dice while the person in front of them looks for the clovers. When the first person rolls two fours (double fours for...
---
• card games • family conversations • free downloads • goals • growth • printables • trivia games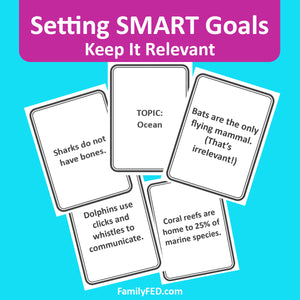 If you're wondering how to talk with your children about setting goals, then making goals relevant is an important aspect to discuss. 
Today's activity centers on family conversations about specific topics.  It's a game I created called, "That's Irrelevant!"
---
• boredom busters • coins • easy family activity idea • easy games • goals • printables • target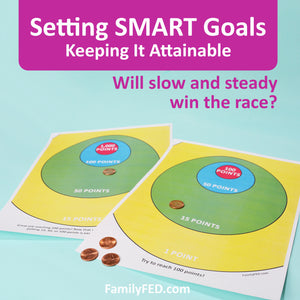 Setting an effective goal means finding the right balance in pushing yourself to grow. Set your goal too high and you might get discouraged. Make it too easy and you may not end up progressing as much as you can. It's great to have big dreams; we just need to divide them into small and simple steps along the path. That's what the "A" in the "SMART" goals pattern is about: creating ATTAINABLE goals. This game is designed to teach that pattern. To play, each person tries to reach 100 points by sliding a penny onto a target with various point values....
---
• easy family activity idea • easy games • gratitude • new ways to play classic games • printables • Thanksgiving • Thanksgiving games • Thanksgiving ideas • twists on classic games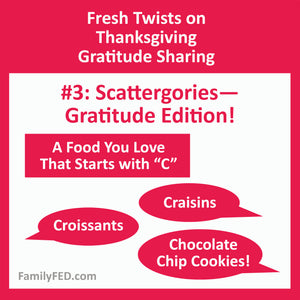 Bring a fun twist to your Thanksgiving gratitude sharing! Play the classic Scattergories game with a Thanksgiving gratitude twist for an easy Thanksgiving party game! We have three fun lists that make it easy!
---
• downloadable game • downloadable games • downloads • easy games • educational games • educational play • family game night • Game Pantry play • homeschool ideas • memory • printables • screen-free play • spelling games • strategy games • The Ultimate Letter Card Game Deck • word games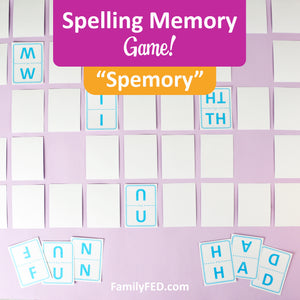 I love a good game that's not only fun but that also engages my brain as well; this game does that for all ages! For teens and adults, it's a fun word game that also allows strategy to come into play—and it's a great memory booster! For younger children, it's a creative take for daily spelling practice (read to the end for a variation that allows you to use weekly spelling words)!