• Christian values • color • family conversations • family relationships • kindness • quality family time • rainbow games • rainbow party • service ideas • spread joy • strengthening family • talk with children about • talk with teens about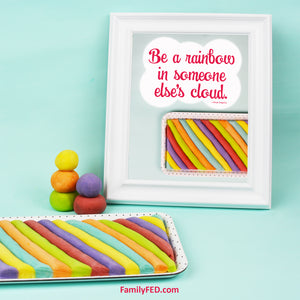 We can learn (and teach our families) some important lessons by making homemade playdough. It provides for quality family time AND quality family discussions!
---
• boredom busters • color games • dice • dice games • DIY game • easy games • educational games • educational play • Game Pantry play • party games • rainbow games • rainbow party • screen free • screen-free play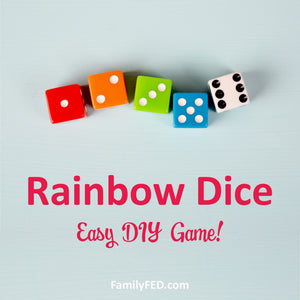 This easy DIY dice game is perfect for party games or for family game night! Simply use three, four, or five colored dice and take turns rolling to see if you can roll them to match up in both ROYGBIV and numerical order to get 100 points. Check out the bonus-point ideas in the video to make this dice game even more fun!   • Find my favorite set of dice in 10 colors.   • See what essentials for family game night are in our "game pantry" to feed your family with fun.   • Enjoy more ideas for easy...