• board games • family game night • game reviews • road trip • road trip activities • road trip games • road trips • strategy games • tic-tac-toe • travel games
Learn the rules for how to play GoTrio—a stackable tic-tac-toe strategy game for 2–3 players! This compact travel game is great for road trip fun or family game nights at home or fun party games with friends.
---
• downloadable game • downloadable games • downloads • easy games • educational games • educational play • family game night • Game Pantry play • homeschool ideas • memory • printables • screen-free play • spelling games • strategy games • The Ultimate Letter Card Game Deck • word games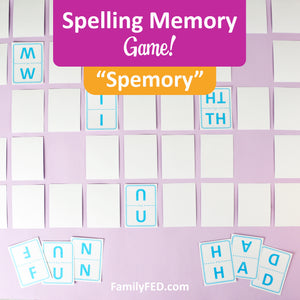 I love a good game that's not only fun but that also engages my brain as well; this game does that for all ages! For teens and adults, it's a fun word game that also allows strategy to come into play—and it's a great memory booster! For younger children, it's a creative take for daily spelling practice (read to the end for a variation that allows you to use weekly spelling words)!
---
• board games • Disney • family game night • family games • favorite games • favorites • game night • game reviews • party games • strategy games
Whether you're a board game fan looking for the best board games or a Disney fan looking to celebrate all things Disney, you're sure to love the Disney Codenames board game. It's a fabulous party game and is great for family game night as well! Today, we're teaching you how to play Disney Codenames! See all the details for how to play.