• boredom busters • coins • easy family activity idea • easy games • goals • printables • target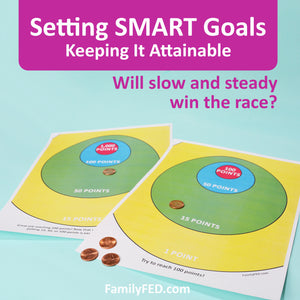 Setting an effective goal means finding the right balance in pushing yourself to grow. Set your goal too high and you might get discouraged. Make it too easy and you may not end up progressing as much as you can. It's great to have big dreams; we just need to divide them into small and simple steps along the path. That's what the "A" in the "SMART" goals pattern is about: creating ATTAINABLE goals. This game is designed to teach that pattern. To play, each person tries to reach 100 points by sliding a penny onto a target with various point values....
---
• boredom busters • bouncy balls • cake stands • easy games • level-up challenges • target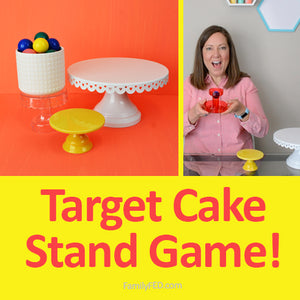 If you love the Target Dollar Spot and Bullseye's Playground as much as I do, then I imagine you have a Target cake stand or two (or more) at home! So I decided to incorporate them into a DIY game—the "Upside-down Cake Bounce!" It's super easy with some bouncy balls and allows for level-up challenges as well. See our three versions for three styles of cake stands.
---
• boredom busters • chopsticks • focus • free downloads • Game Pantry play • growth • outdoor activities • party games • screen-free play • target • toilet paper rolls
If you have chopsticks and empty toilet paper rolls, then you're on your way to 60 minutes of family fun with just 1–2 minutes of setup for these fling flyers combined with a fun target practice! Enjoy TP fling flyers indoor or outdoors for lots of family fun! Games like this are accessible—and fun!—for all ages, from toddler to adults.