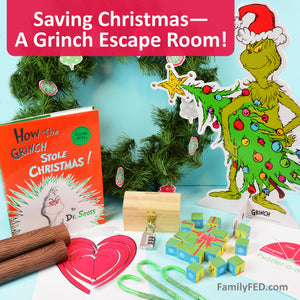 Family F.E.D.
.Saving Christmas—Grinch Escape Room DIY Printables and Instructions
Regular price
$9.99
$0.00
Unit price
per
The story of the Grinch is a wonderful reminder about what really makes the Christmas season magical—not the presents and stockings but the spirit of Christmas that is in our hearts. And in a year when our traditional Christmas experience may not be the same as most years, it helps us focus on how to celebrate the true meaning of Christmas. 

This Christmas party escape room invites participants to solve six clue-based puzzles that will help the Grinch's heart to "grow three sizes [this] day." This PDF includes detailed step-by-step instructions and printables to easily create each of the clues. You will need a few additional supplies, which you can learn more about here.
NOTE: This is an all-digital product PDF download; you will be able to download it from a link after purchase and print it at home. The download is for use in one household only. To help support Family F.E.D., please do not share or redistribute the file. We hope you love this game and that all your family and friends do, too! If they do (yay!), please remember that they should purchase new copies for their own households to honor its copyright. Happy playing! 
— 
You May also Like
Burned-out Bulbs printable Christmas party game
Hang paper Christmas bulbs and try to collect their points by hitting them with darts or soft balls. But make sure you don't hit the burned-out mystery bulb that ends the game! Get our printable Burned-out Bulbs printable game.
—
Pull up a Christmas station on your favorite music app, sing along, and listen for lyrics that match the items on your Bingo board! It's the most fun way to celebrate the wonderful songs of the season and get everyone in the Christmas spirit! Get the Christmas Song Bingo cards here. 
---