• agency • choices • downloadable games • Greedy Leprechaun • holidays and parties • risk • risk vs. reward • St. Patrick's Day • talk with teens about
You found a pot of gold coins to share! But will the greedy leprechaun take it all first? This game not only helps you celebrate the holiday but also provides a great lesson on talking about risk versus reward—and the power of agency and choices—with your children.
---
• downloadable games • downloads • emoji • Emoji Emotions • emotional skills • Emotions • family conversations • family councils • feelings • mental health • skill building • social skills • talk with teens about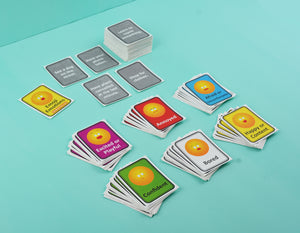 EMOJI EMOTIONS game! Try this fun and easy way to help your kids learn how to talk about their emotions. If you like Apples to Apples, you'll LOVE this game!