• arts and crafts • boredom busters • creativity • Disney • Disney movie night • friendship • making videos • service ideas • simple service • Sunday service • talk with children about • talk with teens about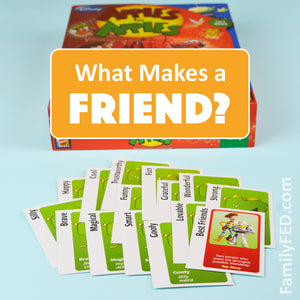 Back-to-school time can create worry about finding good friends at school. And this year may be especially tough without close friends nearby as the school year starts. It's a great time to talk with your children about #friendship—not just on how to find a good friend but also about how to BE a good friend. Make the discussion extra fun by creating mini video clips using Apples to Apples cards.
---
• service ideas • simple service • strengthening family • summer play
Help add joy and harmony at home with family service ideas for kids (ages 3–5, 6
–9, and 10+), teens, and parents. These 100 ideas to serve your family give you a great place to start, and our service chart to mark 100 service projects keeps the momentum going. These family service charts come in two versions, with one including a spot for a drawing of your family! Our PDF download includes the list of 100 ideas in between the two chart options, making it easy to print the service ideas on the back of either chart for easy reference with double-sided printing.
---
• birthday gifts • birthday ideas • Dad • Father's Day • gift ideas • holidays and parties • service ideas • simple service
Finding the best gifts for dads and grandpas can be hard, especially for the man who already has everything. But don't feel like you need to buy something. Try one or many of our 105+ free gifts or service ideas for dads and grandpas on Father's Day, his birthday, Christmas, or any day of the year that may be more meaningful than anything you can buy at the store! They can all be done with no supplies or basic items around the home, such as paper.
---
• earth day • family history • nature • photography • service ideas • simple service • Sunday service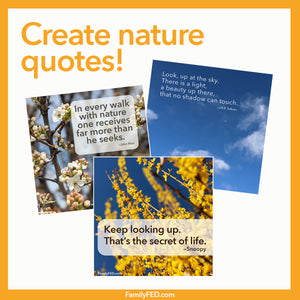 Feel like you could use more sunshine, some relaxation, and a little more reflection? Combine them all into this simple service idea. Take a walk, photograph nature, and use it to create a picture quote with a favorite saying.
---
• Coronavirus • service ideas • simple service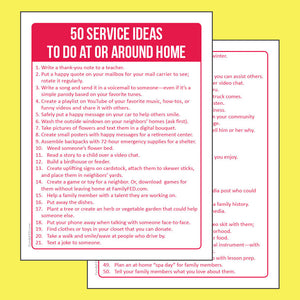 Looking for service ideas you can do at or around home during the Coronavirus quarantine? Try these 50 ideas!