• bingo • downloadable game • downloadable games • downloads • nature • outdoor • outdoor activities • outdoor games • screen free • screen-free play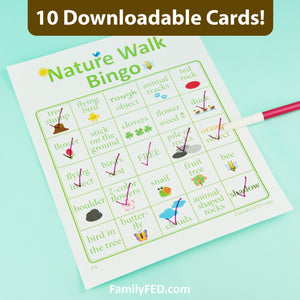 These 10 colorful and downloadable Nature Walk Bingo cards will turn a routine walk into a fun adventure with our downloadable Nature Walk Bingo game! 
Whether we're hurriedly moving to our next destination or scrolling on our phones while talking with someone in the room, it's easy to be present somewhere without truly experiencing the moment or the location. This Nature Walk Bingo game provides a fun reason to pause and truly appreciate the stunning world around us. And it's a great reason to get outside! It helps you connect with nature and with the people you're with! It's also a great game to involve children across a wide range of ages.
---
• boredom busters • coins • crackers • easy games • food • fun with food • screen free • screen-free play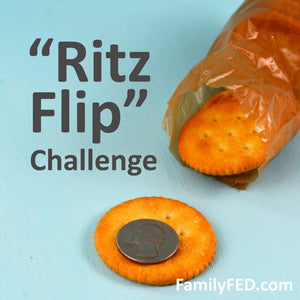 Although it looks easy, the Ritz Flip is quite the fun activity! Simply place a quarter on a Ritz cracker, flip it in the air, and try to catch it back on the quarter! When playing with a group, see who can be the first to catch it a certain number of times. Or, play it Minute-to-Win-It–style and see how many times you can catch it in 60 seconds.
---
• dollar store • football • golf • Hula-Hoops • obstacle course • outdoor • outdoor games • paper airplane • screen free • screen-free play • social distancing • tag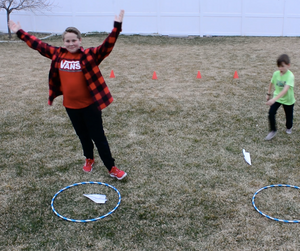 Want to bring something new to your outdoor play? These six ideas will help you have fun while getting outdoors! And many of them use simple Hula-Hoops, which you can pick up at the dollar store.
---
• 5-minute games • easy games • screen free • screen-free play • snow activities • snow games • tic-tac-snow • tic-tac-toe • twists on classic games • winter games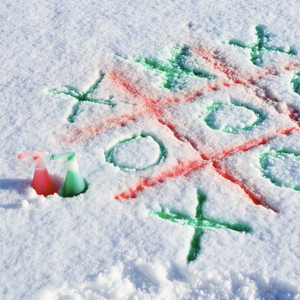 Looking for a simple outdoor activity for kids or teens in the snow? Try Tic-Tac-Snow! It involves everyone of all ages. Bonus: when temperatures are nearly unbearable, you can still finish a fun outdoor activity without needing to stay outside for as long as it takes to build a snowman! Download a PDF of this activity's "recipe" to add to your family activity binder. What You'll Need • Spray bottles (2)• Washable food coloring• Snow How to Play 1. Fill two water bottles with water. Keep a pitcher nearby to refill them. 2. Add drops of food coloring to each water bottle....