• arts and crafts • food • fun with food • Popsicles • summer parties • summer play • unexpected art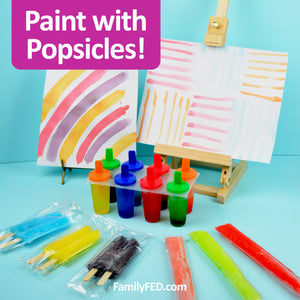 For an easy summer art project, look no farther than your freezer! Just grab a bag of Popsicles or freezer pops, some cardstock, and perhaps some cookie sheets or large platters for younger hands to reduce the mess. You'll also want plates—lots of small plates to house each color of Popsicle when you're not painting with them. Then it's time to paint with Popsicles—creating art projects to your hearts content!
---
• barbecue activities • BBQ • BBQ games • easy games • flipping games • food • food fight • Fourth of July • Fourth of July games • fun with food • hamburger • holidays and parties • screen free • screen-free play • spatula • summer parties • summer play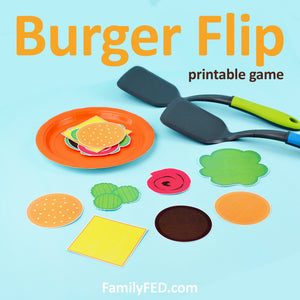 Burger Flip is the perfect easy family game for barbecues, summer parties, and holidays. Families, children, and teens will all enjoy this printable game that has you flipping your burger to perfection. Simply print out the PDF, cut out your burger pieces, and grab a spatula, then you're ready to play!
---
• arts and crafts • candy • food • fun with food • M&Ms • unexpected art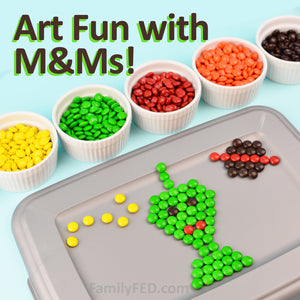 Make art night extra sweet with a fun, new art supply for your next canvas—M&Ms! Creating candy art with M&Ms is a great way to have your family engage with art, color, and creation with a new twist to get their creative juices going! Plus, it's a great way to talk about creative problem-solving and resourcefulness.
---
• fun with food • Mother's Day • Mother's Day gifts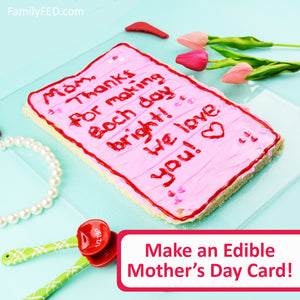 Handwritten letters are so precious, and this one lets your kids practice their baking and decorating skills while providing Mom or Grandma a special treat for Mother's Day with an edible Mother's Day card!
---
• Disney • food • food fight • fun with food • peer pressure • Star Wars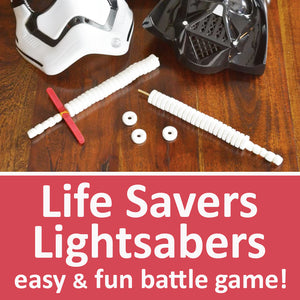 To celebrate Star Ways Day (May the 4th be with you!), I'm sharing one of my favorite games we've ever put together: Life Savers Lightsabers. To play, create Life Savers candy lightsabers. Then pair up and battle it out to see who can remove all of the other person's Life Savers from the lightsaber first! To quote my nephew, "This game is win or win not; there is no tie."