• cake • cake dot game • dessert game • dot game • dot game with cake • easy games • food • food fight • fun with food • twists on classic games
Here's a fun twist on the classic dot game: create it with CAKE and FROSTING instead of with pen and paper!
---
• brain exercise • build • creativity • educational games • educational play • engineering • fun with food • hot chocolate • marshmallows • Melting Marshmallows challenge • STEAM • STEM • toothpicks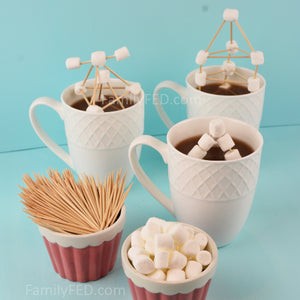 This easy STEM project introduces your children to engineering in a fun way! Build a marshmallow structure and see whose idea can stay afloat longest before having the last marshmallow touch the hot chocolate! It's a great way to melt away the homework blues in a way that combines a classic treat with educational fun!