• chopsticks • motor skills games • Ping-Pong balls • talk with children about • talk with teens about • team games • teamwork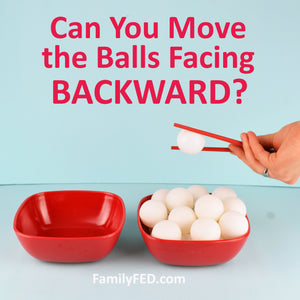 This team game will have you laughing while helping refine your communication skills (and your motor skills, too)! Whether you're building teamwork skills at work or looking for ways to talk with your kids about teamwork, you'll love this game! Team up in pairs and have player 1 face away from a bowl filled with Ping-Pong balls. Player 1 uses chopsticks to move the balls from one bowl to another while player 2 tries to guide him by telling him how to move his hands!
---
• bouncy balls • DIY game • easy games • hammer • nails • Ping-Pong balls • rubber bands • skill building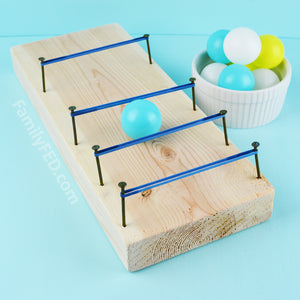 Learning basic household skills, like using a hammer and nails, can be made more fun when your kids know there's a reward at the end—a fun game! This DIY game lets your kids learn basic carpentry skills, and it's the perfect boredom buster with endless playing options! Try to bounce a ball within each of the sections!
---
• 5-minute games • balance • boredom busters • creativity • Game Pantry play • level-up challenges • paper towel rolls • Ping-Pong balls • priorities • resilience • screen-free play • toilet paper rolls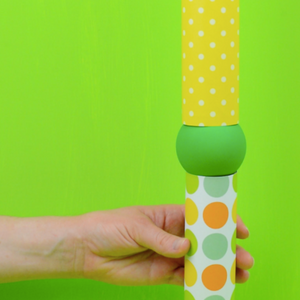 This 2-Stick Ball Run challenge is all about finding the right mix between balance and speed. It also encourages creativity to invent level-up challenges that keep your family entertained for screen-free time. You'll even have opportunities to talk to your children about resilience, priorities, and balance.