• charades • Disney • Disney movie night • family history • family stories • flour • Frozen • Frozen 2 • ice cream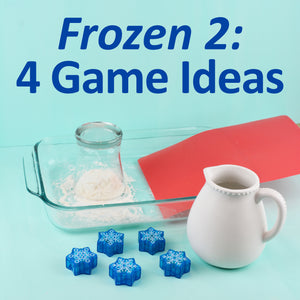 Turn a traditional Disney Plus movie night into a family Disney movie night PARTY that builds family connections and closeness with these four easy
Frozen 2
party game and food ideas! Anna and Else knew how to move forward during hard times to do the next right thing because of what they learned from their family's stories. Likewise, knowing and talking about your family's stories can help your family make it through hard times, too!
---
• churros • desserts • Disney • Easter • fun with food • holidays and parties • jelly beans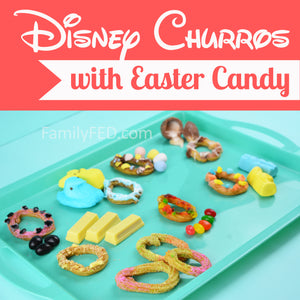 Learn how to make Easter Disney churros with these fun twists! Enjoy egg-shaped churros, Easter-candy–covered Disney churros, and a fun way to "decorate" your Disney churros to look like dyed Easter eggs! Plus, take the Disney churro Easter challenge to see which Easter candies best complement Disney churros and which don't! Surprisingly, my top pick and bottom pick were the exact opposite of what I thought they would be!
---
• apple • apples • arts and crafts • comparison • crayons • Disney • Disney movie night • divine worth • downloadable game • family games • family movie night • family night • jewels • movie parties • seven dwarfs • silicone molds • Snow White • values • worth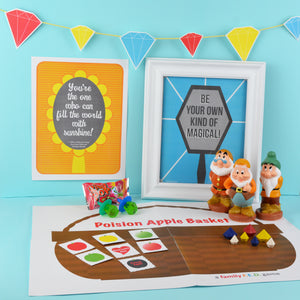 Turn a 
Snow White 
movie night into quality family time with these five easy ideas to spark laughter and conversation before after the movie. Or use them with your Disney princess party!