• arts and crafts • candy • food • fun with food • M&Ms • unexpected art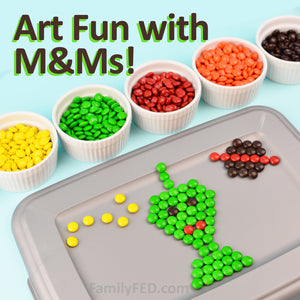 Make art night extra sweet with a fun, new art supply for your next canvas—M&Ms! Creating candy art with M&Ms is a great way to have your family engage with art, color, and creation with a new twist to get their creative juices going! Plus, it's a great way to talk about creative problem-solving and resourcefulness.
---
• arts and crafts • free activities • nature • outdoor • outdoor activities • rocks • screen free • screen-free play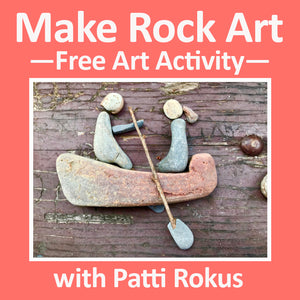 You can use rocks for a free art activity for children! Go on a treasure hunt to collect rocks, then see how you can use them to create pictures or spell messages! 
Rock art has limitless possibilities, and the art supplies are free! Here are just three of the many different ways to play with rocks to create rock art.
---
• arts and crafts • balance • cairns • focus • nature • paint • priorities • rocks • talk with children about • talk with teens about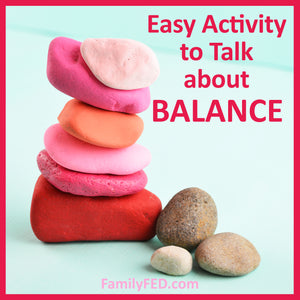 This activity helps your family focus on slowing down and finding the right balance in their lives. The activity is simple: gather some rocks from your yard and use them to create a cairn (often used as a landmark in hiking to help you and others know you're on the right path). For added meaning, paint the rocks in a way that symbolically represents the landmark changes happening in your life right now.
---
• arts and crafts • drawing • Easter • family history • family history in 15 minutes • family portraits • family stories • holidays and parties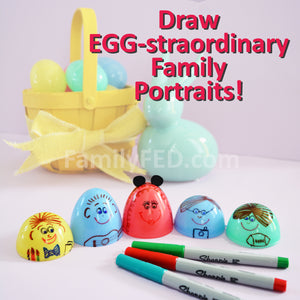 For a fun Easter craft, have your family draw self-portraits on plastic Easter eggs. You can draw on half of the egg, like these. Or draw on the entire egg and place coins in the bottom of the eggs to help them stand upright.
---
• art games • arts and crafts • drawing games • easy games • free downloads • goals • graph paper • growth • party games • quick games • Strive to Be • talk with children about • talk with teens about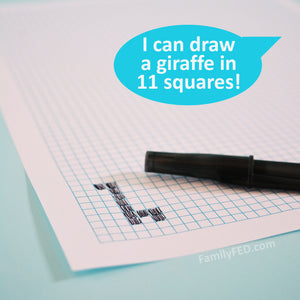 This name-that-tune style art game uses graph paper to see who can draw an object using the least amount of squares. It also provides a great parallel to setting and achieving goals, and it can help you talk about growth and goal-setting with your family!