• arts and crafts • dollar store • Dollar Tree • Dollar Tree DIY • Fourth of July • Fourth of July crafts • holidays and parties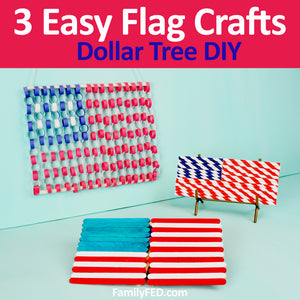 These three Dollar Tree DIY Fourth of July flag crafts make the perfect flag activity for kids' (or teens' or adults') arts and crafts ideas! Use the Dollar Tree paper straws, construction paper, and craft sticks for easy flag crafts.
---
• arts and crafts • Dad • dish soap • Father's Day • food coloring • glue • window clings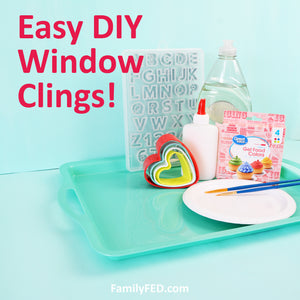 Making DIY window clings is so easy! And there's nothing like a personal touch for a handmade gift to show someone how much you love them. The same is true for Father's Day! Make some DIY window clings that Dad can put on the kitchen window, office window, or rear window of his car to always remember how much you love him.
---
• arts and crafts • Dad • Father's Day • paint • screen-free play • Tools • unexpected art
Add an unexpected twist to your next art adventure or paint night with friends—paint with TOOLS! Creative play builds imagination when you let yourself explore the unexpected! We've got tips for creating fun shapes for an artistic flair.
---
• arts and crafts • food • fun with food • Popsicles • summer parties • summer play • unexpected art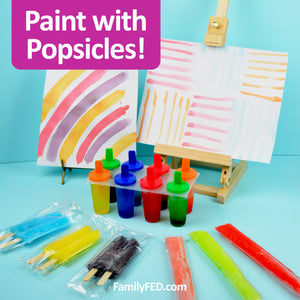 For an easy summer art project, look no farther than your freezer! Just grab a bag of Popsicles or freezer pops, some cardstock, and perhaps some cookie sheets or large platters for younger hands to reduce the mess. You'll also want plates—lots of small plates to house each color of Popsicle when you're not painting with them. Then it's time to paint with Popsicles—creating art projects to your hearts content!
---
• arts and crafts • bouncy balls • car games • cars • Disney • Disney movie night • easy games • family history • family history in 15 minutes • family movie night • Hot Wheels • marbles • Mismatched Socks • movie parties • Onward • Ping-Pong balls • toilet paper rolls • wands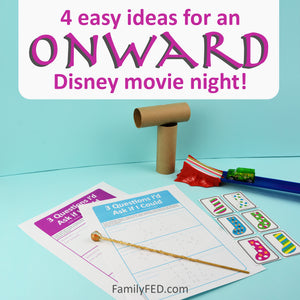 Turn a Disney movie night on Disney+ into quality family time with these four easy and fun activities for an Onward party! Try crashing into toilet-paper-roll "boulders" with a Hot Wheels van/car, playing the "Mismatched Socks" brain-booster family game twist on Memory, recording what three questions you'd ask anyone living or dead if you could (with free printable), and creating a wizard's staff/wand from skewer sticks and hot glue!