• arts and crafts • color schemes • creativity • Intellectual Skills • paint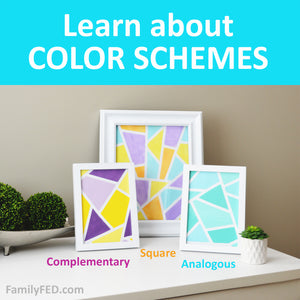 Intellectual-development activity:
Help your family explore color schemes and learn about complementary, split-complementary, analogous, monochromatic, tetrad, triad, and square color schemes! Then invite them to make a simple art project inspired by the popular stained-glass sidewalk chalk displays that were so popular earlier this year.
---
• arts and crafts • desk organization • DIY Dollar Tree • dollar store • Dollar Tree • Dollar Tree DIY • Dollar Tree hack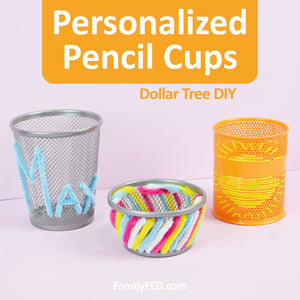 Add a personal touch to your family's virtual learning space with an easy and fun Dollar Tree art project. Just pick up some dollar-store pencil cup holders or desk storage along with some pipe cleaners and embroidery floss. Then spend an art evening adding a name, a fun shape, or a colorful pattern.
---
• arts and crafts • DIY Dollar Tree • dollar store • Dollar Tree • Dollar Tree DIY • Dollar Tree hack • dry-erase • girl party ideas • paper dolls
Take your paper-doll activities to a completely new level with DRY-ERASE paper dolls! This is an activity I wish I'd had growing up. Can you imagine how much more fun car rides would have been? Or how easy it would have been to have a fashion or art activity for a birthday party or get-together with friends (and for only a few bucks since the supplies are from the Dollar Tree)?
---
• arts and crafts • cereal • food • Fruit Loops • fun with food • unexpected art • wall decor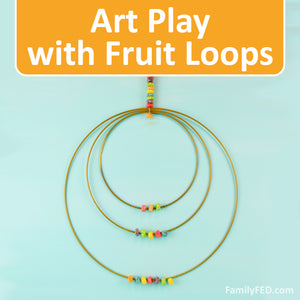 You know I love finding unexpected items for arts and crafts, and today's surprise palette creation is . . . Fruit Loops cereal! I love how the unexpected items inspire imagination and play.
---
• arts and crafts • boredom busters • creativity • Disney • Disney movie night • friendship • making videos • service ideas • simple service • Sunday service • talk with children about • talk with teens about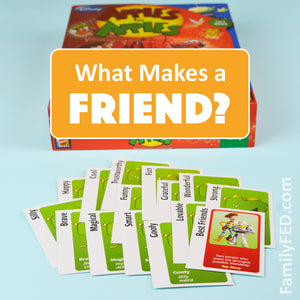 Back-to-school time can create worry about finding good friends at school. And this year may be especially tough without close friends nearby as the school year starts. It's a great time to talk with your children about #friendship—not just on how to find a good friend but also about how to BE a good friend. Make the discussion extra fun by creating mini video clips using Apples to Apples cards.