• arts and crafts • free activities • nature • outdoor • outdoor activities • rocks • screen free • screen-free play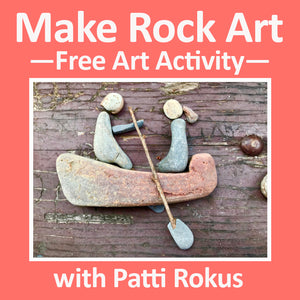 You can use rocks for a free art activity for children! Go on a treasure hunt to collect rocks, then see how you can use them to create pictures or spell messages! 
Rock art has limitless possibilities, and the art supplies are free! Here are just three of the many different ways to play with rocks to create rock art.
---
• bingo • downloadable game • downloadable games • downloads • nature • outdoor • outdoor activities • outdoor games • screen free • screen-free play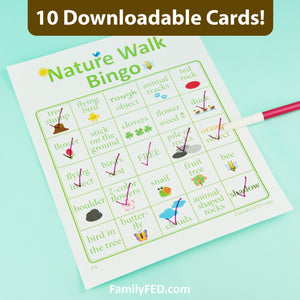 These 10 colorful and downloadable Nature Walk Bingo cards will turn a routine walk into a fun adventure with our downloadable Nature Walk Bingo game! 
Whether we're hurriedly moving to our next destination or scrolling on our phones while talking with someone in the room, it's easy to be present somewhere without truly experiencing the moment or the location. This Nature Walk Bingo game provides a fun reason to pause and truly appreciate the stunning world around us. And it's a great reason to get outside! It helps you connect with nature and with the people you're with! It's also a great game to involve children across a wide range of ages.
---
• boredom busters • coins • crackers • easy games • food • fun with food • screen free • screen-free play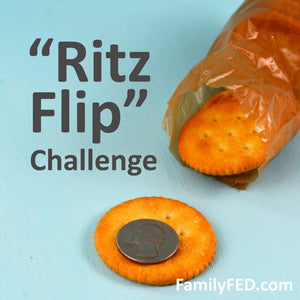 Although it looks easy, the Ritz Flip is quite the fun activity! Simply place a quarter on a Ritz cracker, flip it in the air, and try to catch it back on the quarter! When playing with a group, see who can be the first to catch it a certain number of times. Or, play it Minute-to-Win-It–style and see how many times you can catch it in 60 seconds.
---
• dollar store • football • golf • Hula-Hoops • obstacle course • outdoor • outdoor games • paper airplane • screen free • screen-free play • social distancing • tag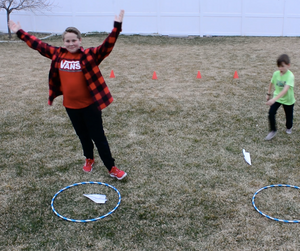 Want to bring something new to your outdoor play? These six ideas will help you have fun while getting outdoors! And many of them use simple Hula-Hoops, which you can pick up at the dollar store.
---
• 5-minute games • brain exercise • creativity • educational games • educational play • Game Pantry play • level-up challenges • screen-free play • The Ultimate Letter Card Game Deck • word games
Words help us form phrases each day. But this game with letter card game decks features a role reversal that's all about finding how the
phrase
can form
words!
This game provides a great brain exercise to help the mind connect letters in new ways, and it's a fun spelling game for increasing vocabulary as well.