• basketball • crazy sports • easy games • Frisbee • games with a twist • outdoor • outdoor activities • outdoor games • screen-free play • sports • sports games • summer play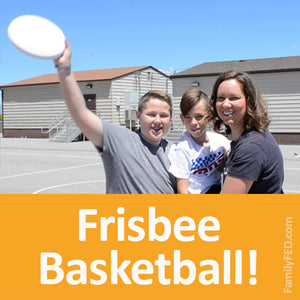 Looking for an easy but fun family activity to enjoy outside this summer with little prep time? Try a fresh twist on a classic game by playing basketball with a Frisbee! Try these three ways to play.
---
• animals • balance • growth • nature • outdoor • outdoor activities • screen free • screen-free play • talk with children about • talk with teens about
Feeding ducks is such a great pleasure for a fun and simple family activity! But did you know that eating white bread isn't necessarily good for ducks? See how knowing the foods that are nutritious for feeding ducks can also help you talk with your children and teens about finding balance in their lives!
---
• boredom busters • chopsticks • focus • free downloads • Game Pantry play • growth • outdoor activities • party games • screen-free play • target • toilet paper rolls
If you have chopsticks and empty toilet paper rolls, then you're on your way to 60 minutes of family fun with just 1–2 minutes of setup for these fling flyers combined with a fun target practice! Enjoy TP fling flyers indoor or outdoors for lots of family fun! Games like this are accessible—and fun!—for all ages, from toddler to adults. 
---
• downloads • easy games • focus • free downloads • goals • paper • paper airplane • screen-free play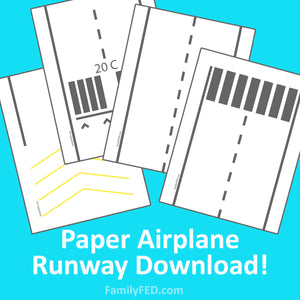 This activity takes paper airplanes to the next level! While the fun of building a paper airplane encourages creativity, add a target for the airplane to land on and it focuses your family's creativity to reach higher to build an engineering masterpiece! Take the activity up a notch more by downloading this FREE paper airplane runway (link in my profile) and see who can land on it with the most accuracy! Then take the chance to talk about how, as with this game, having a specific goal helps us channel our efforts to reach our best abilities. It's also a great STEM activity at home to learn about the laws of aerodynamics!
---
• ball games • boredom busters • bouncy balls • level-up challenges • Ping-Pong balls • screen free • screen-free play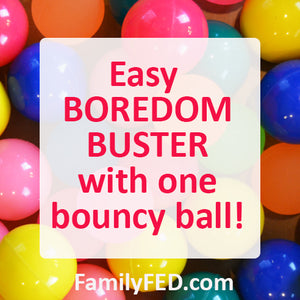 This type of boredom buster is my favorite because you can find ways to "level up" the challenge in creative ways. And all you need is a bouncy ball!
Place a bouncy ball in the palm of your right hand. Toss it into the air and bounce it off the palm of your left hand. Bounce it back toward the right hand but have it bounce on the back side of the hand, then bounce it off the back of the left hand—all in one continuous bouncing motion. See how many times in a row you can bounce it back and forth between the palms and backs of your hands.